Metro will get you home safely this holiday season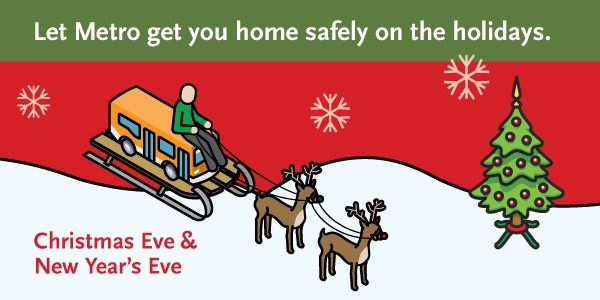 To help you celebrate the holidays safely, all Metro bus and rail lines will provide free service on the nights of Christmas Eve and New Year's Eve.
Specifically, no fare will be charged starting 9pm on Saturday, December 24 until 2am Sunday, December 25 and starting 9pm on Saturday, December 31, 2016 until 2am on Sunday, January 1, 2017. All Metro Rail Line Stations with latched gates will be unlatched during this time.
A One-way fare is $1.75 and includes transfers to other Metro lines for up to two hours to complete a one-way trip. A $7 Day Pass covers unlimited travel starting on date of purchase until 3am the next morning.
Note: All Metro Rail lines and the Metro Orange Line will operate all night every 20 minutes on New Year's Eve. The Metro Silver Line will operate every 60 minutes during this time. The NoHo to Pasadena Express, Line 501 will run every 30 minutes all day.
For safer holiday fun, Go Metro.