Free DASH Rides Begin Friday for Metro 7-Day or 30-Day Pass Holders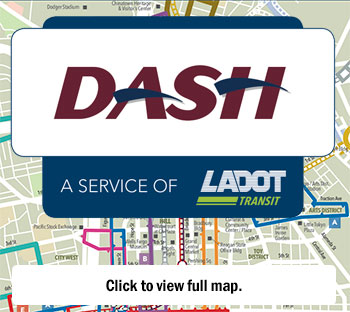 As part of a new pilot program beginning Friday (July 1) and running through Dec. 31, Metro riders with a TAP card loaded with a seven-day or 30-day pass will be able to ride DASH for free.
The project is part of the California Climate Investments, which use proceeds from the state's cap-and-trade auctions to reduce greenhouse gas emissions and provide benefits to communities around the state.
The DASH system — run by the city of Los Angeles — is a great way to make first-and-last mile connections to Metro. Here's a list of all the lines at the DASH website and above is a system map.