Buy One, Get One Free Promotion Celebrates Big Blue Bus as a Connection to the New Metro Expo Line
Big Blue Bus is celebrating the return of rail to Santa Monica with a Buy One, Get One free promotion (BOGO)! Santa Monica residents, visitors, current and new Big Blue Bus riders one and all are all encouraged to try Big Blue as their connection to and from the Metro Expo Line.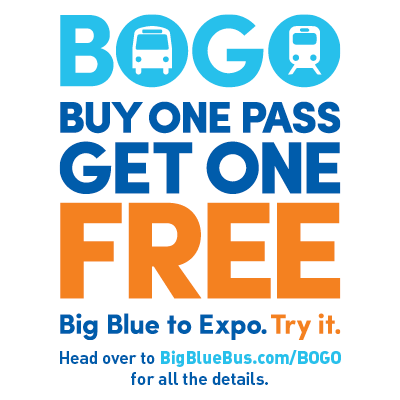 Beginning on May 13th, anyone may bring a valid ID to either of two locations in Santa Monica to participate. These locations are:
  Blue: the Transit Store, 1444 4th St.
  Mobility Center, 1685 Main St. (located in Santa Monica City Hall lobby)
At these locations, BOGO participants may purchase Big Blue Bus fare product(s) on a TAP (Transit Access Pass) card and receive Big Blue Bus fare product(s) of equal or lesser value for FREE! *
Big Blue Bus fare products included in the BOGO promotion are:
Day Pass
Senior/Disabled/Medicare Day Pass
7 Day Pass
13 Rides Pass
Senior/Disabled/Medicare 13 Rides Pass
30 Day Pass
Senior/Disabled/Medicare 30 Day Pass
30 Day Express Pass
Senior/Disabled/Medicare 30 Day Express Pass
Youth 30 Day Pass
TAP Stored Value
For seamless and cashless travel between Big Blue Bus and the Metro Expo Line, Stored Value is a great option that allows you to use one card. Load a TAP card with Stored Value (up to $20 per week), and you will receive an equal amount of Stored Value for free.
For more information, visit BigBlueBus.com/bogo.
* The BOGO promotion is limited to $110 free value, per person, per week and will run while supplies last. All fare media must be loaded onto a TAP card which will be available for purchase for $2 each.